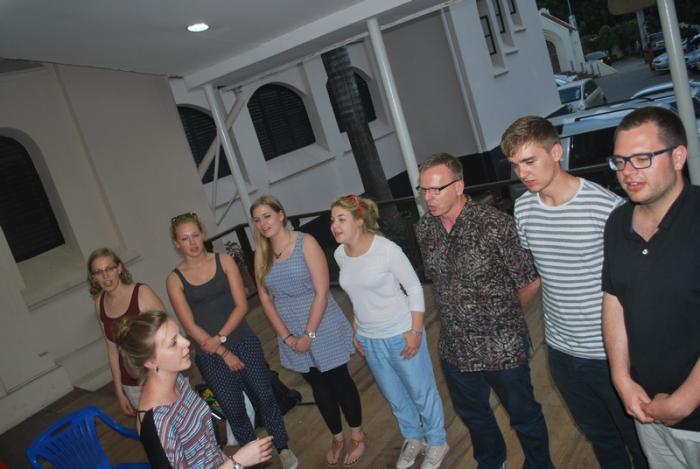 Ugeni huo ulikuwa na ujumbe wa watu 9, vijana 7 na wachungaji 2. Vijana walikuwa mchanganyiko wa kike na wa kiume. Pia katika wageni hao walikuwepo wafanya kazi , wanafunzi. Unna ni usharika ambao ni rafiki wa usharika wa Azania Front kwa miaka mingi sasa.
Sharika hizi mbili zimejiwekea utaratibu wa Vijana kutembeleana na kubadilishana mawazo katika kumtukuza na kukuza neno la mungu.
Wakiwa hapa nchini walitembelea maeneo ya kihistoria, vikundi vya kwaya madarasa ya Sunday school na kushiriki ibada ya nyumba kwa nyumba , mtaa wa Osterbay.
Mbali na hayo wameweza kutembelea shule za Kisarawe Junior Seminary na Mkuza girls School na mitaa mbalimbali inayotunzwa na usharika wa Azania front.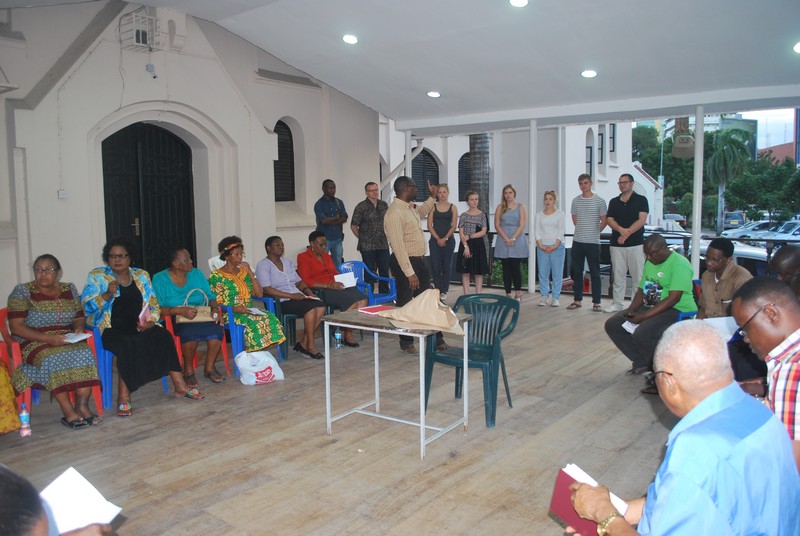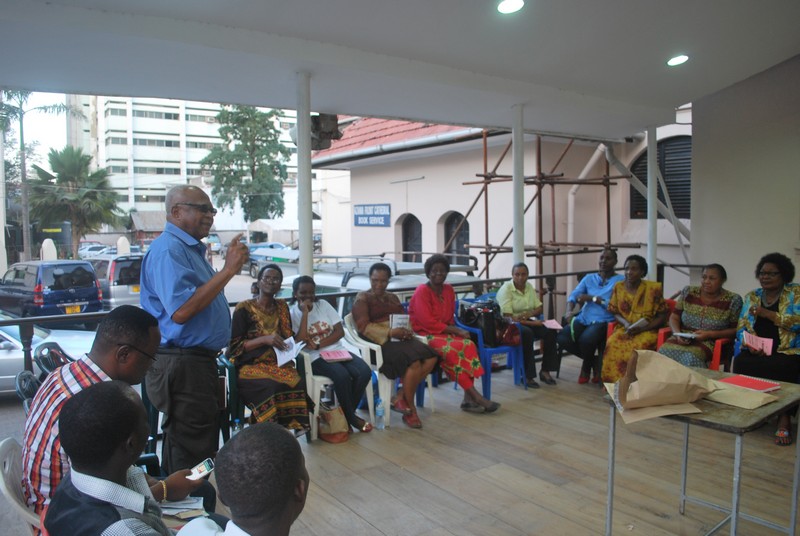 Juu-Mwalimu Tumaini wa kwaya ya Upendo akiwakaribisha wageni kutoka ujerumani, Mzee Joshua Minja mmoja kati ya wanakwaya ya
Upendo akijitambulisha kwa wageni walipowatembelea wakifanya mazoezi. Unna Visitors being introduced to Upendo Choir during
practise.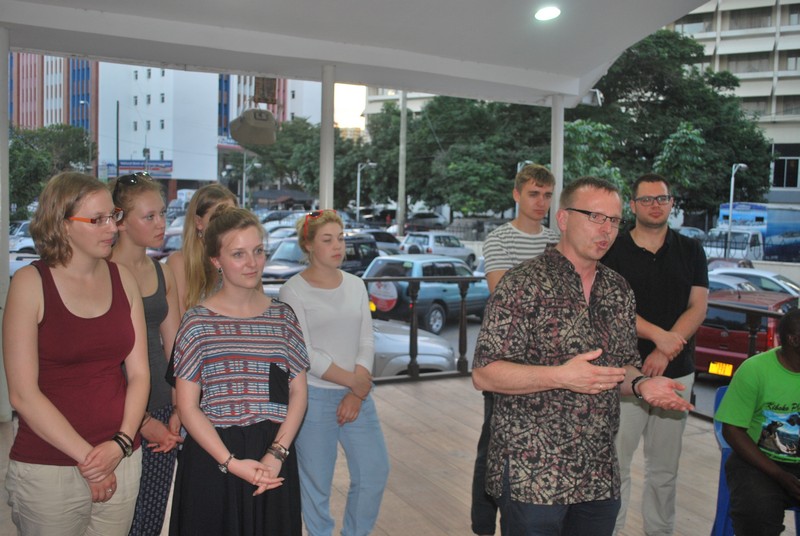 Mch. Frank akiwatambulisha wenzake kwa wanakwaya wa Upendo. Pastor Frank introducing his delegation to Upendo Kwaya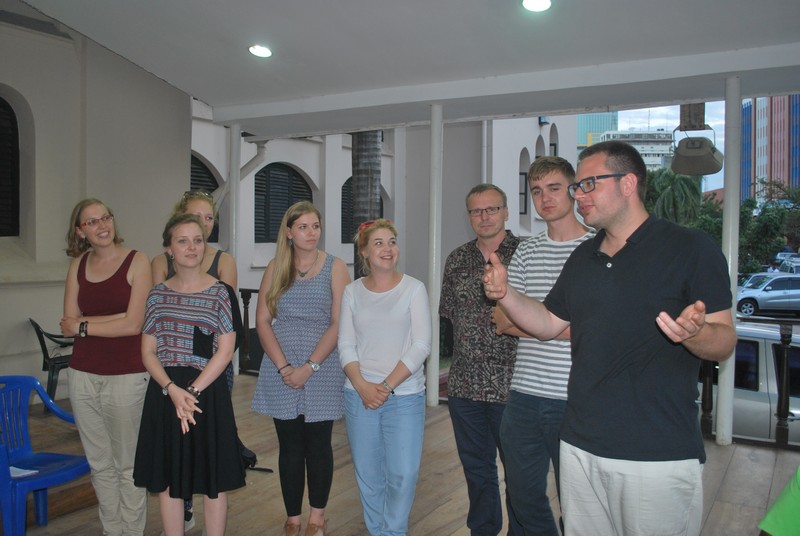 Lucas, mmoja wa vijana wageni akieleza jambo. Lucas, one of the young visitors, explaining something to Upendo Choir.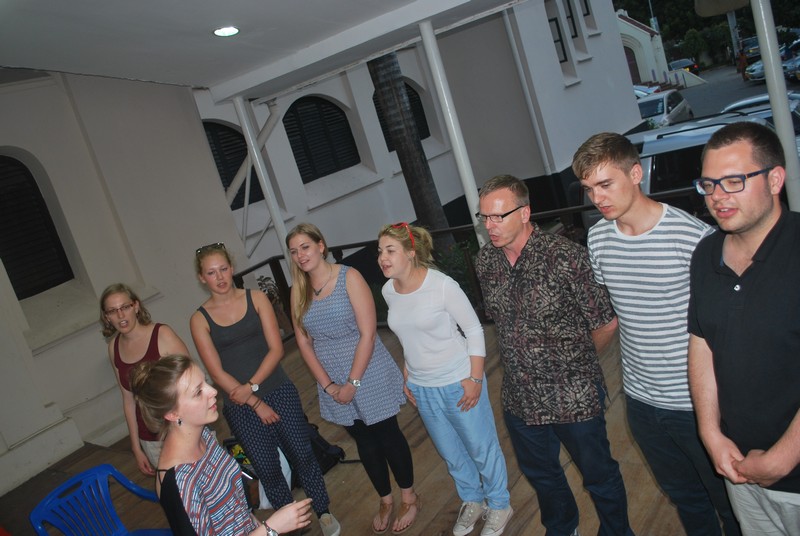 Wageni wakiwaimbia wanakwaya wa Upendo, Singing before Upendo Choir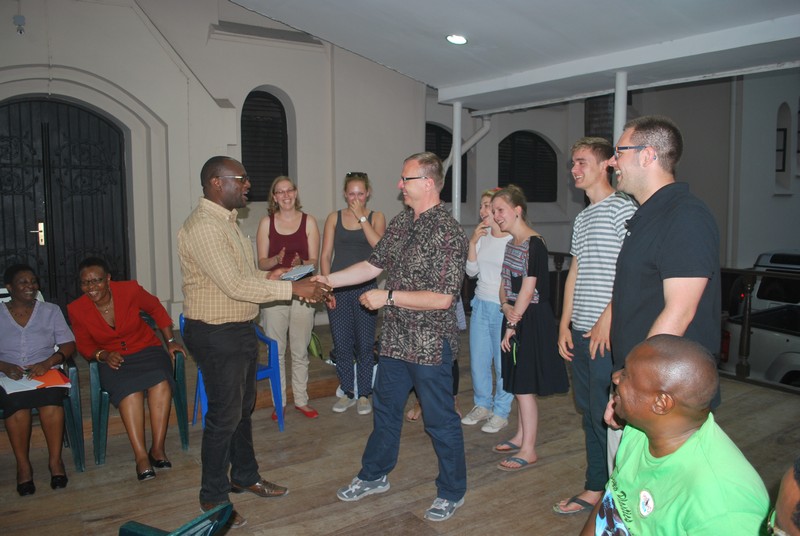 Mwalimu wa kwaya ya Upendo akikabidhi zawadi ya CD kwa Mch. Frank. Mr. Tumaini, trainer of Upendo choir, presenting a CD to Pastor
Frank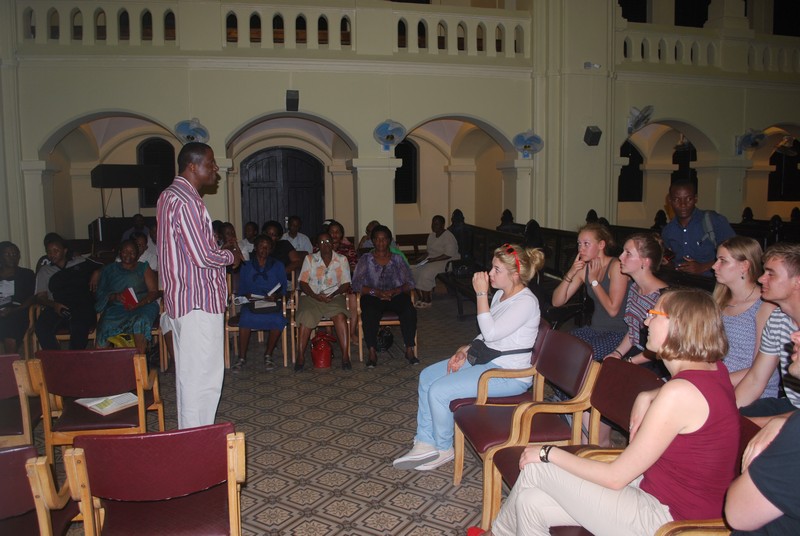 Mwalimu wa kwaya kuu akitambulisha kwaya kuu kwa wageni wakati wa mazoezi. Trainer of Main Choir introducing his members during
practise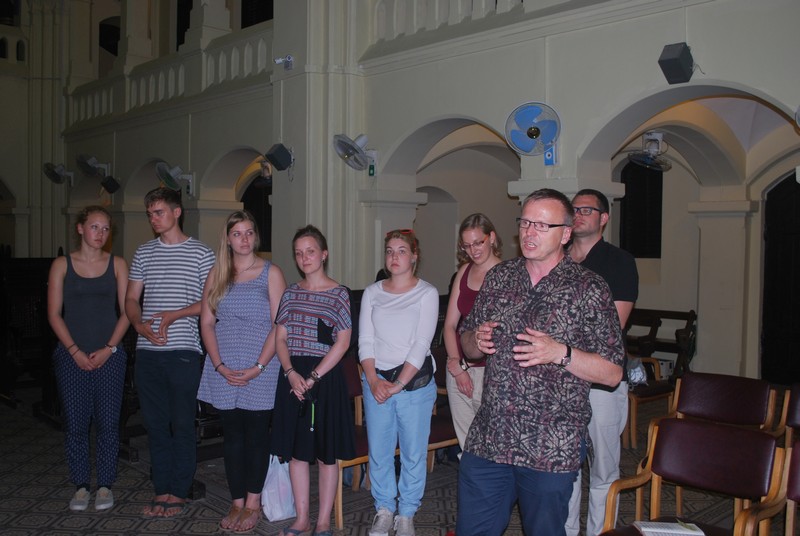 Mch. Frank akitambulisha aliofuatana nao kwa Kwaya Kuu. Pastor Frank Introducing his delegation to Main Kwaya.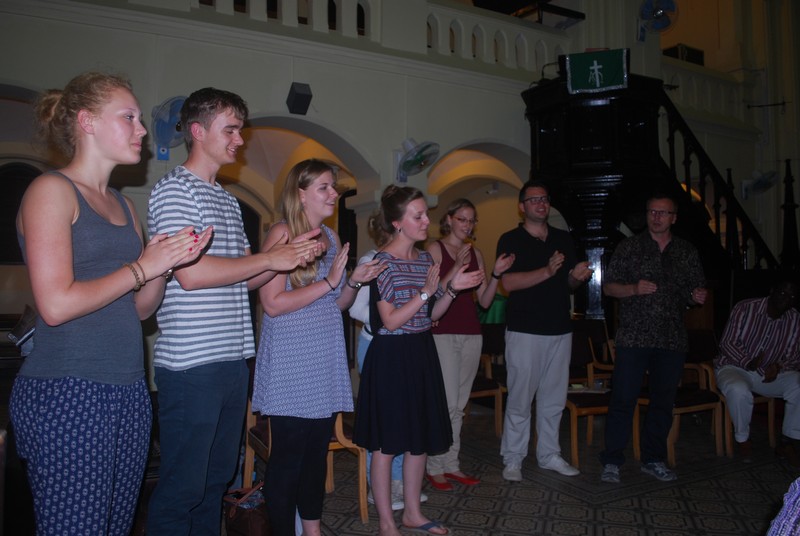 Wageni wakiimba mbele ya kwaya kuu. Singing before Main Choir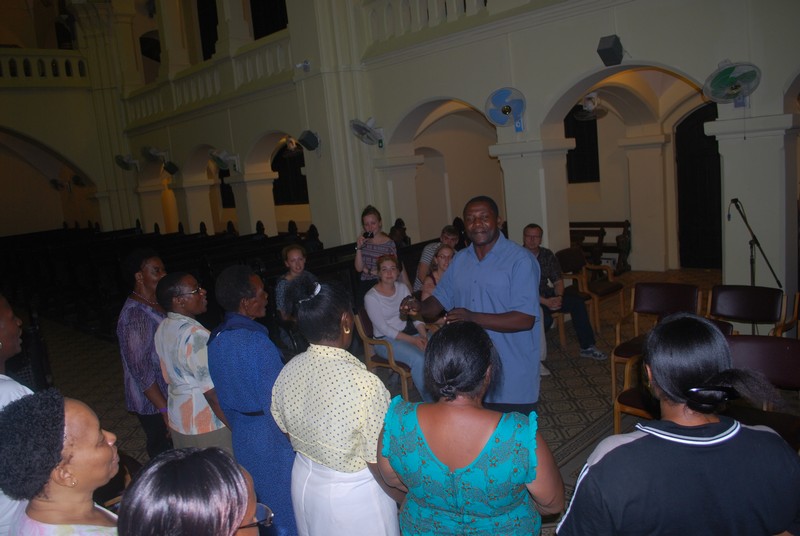 Mwl. Abisai akiongoza kwaya kuu wakiwaimbia wageni wimbo wakati wa mazoezi. Mr. Abisai conducting during Choir Practice with
visitors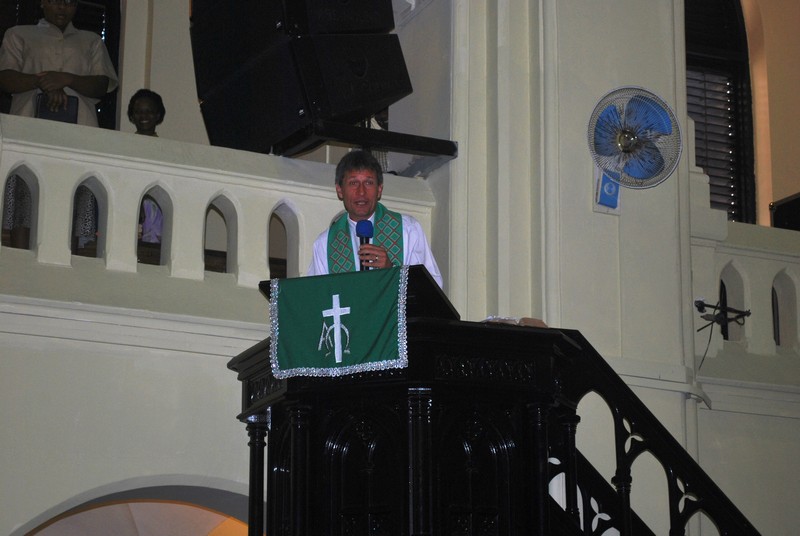 Mch. Andreas akihubiri. Pastor Andreas preaching.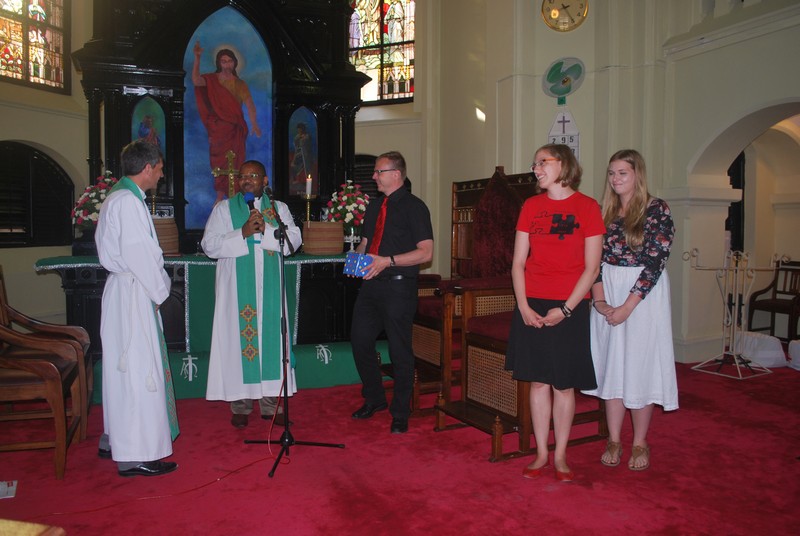 Mchungaji Kiongozi Mzinga akiwatambulisha wageni kwa washarika. Chaplain Mzinga introducing visitors to the congregation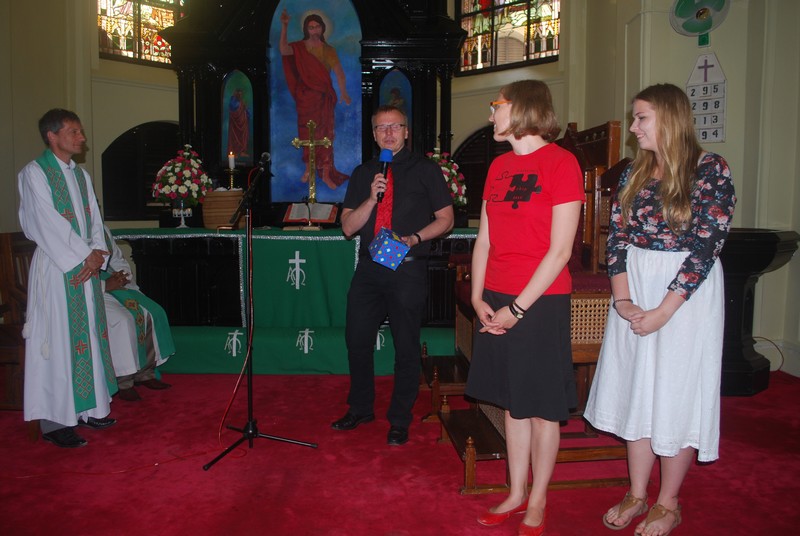 ÂÂÂÂÂÂÂÂÂÂÂÂÂÂÂÂÂÂÂÂÂÂÂÂÂÂÂÂÂ Mch Frank-kati-akitoa zawadi ya usharika. Pastor Frank presenting a Gift to Azaniafront congregation.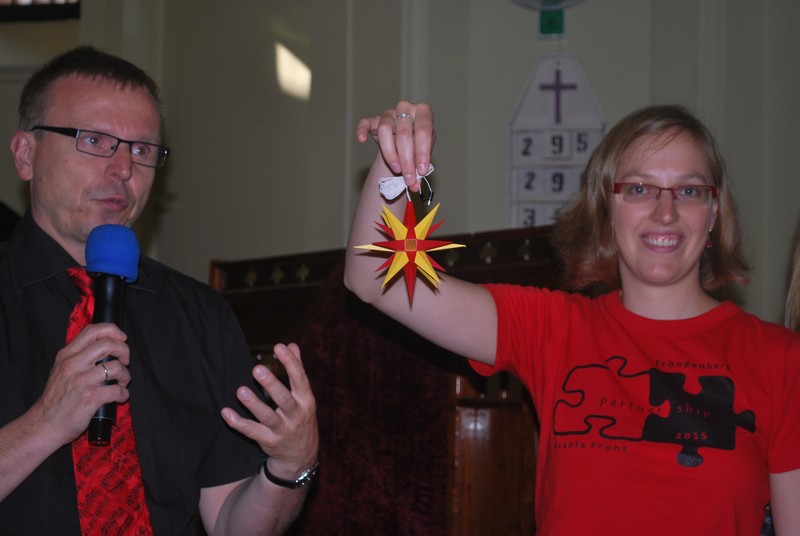 Ni mfano wa Nyota kubwa watakayoitoa kupamba kanisa wakati wa Christmas. It's a model of a larger version that will be presented
for decorating the church in Christmas season.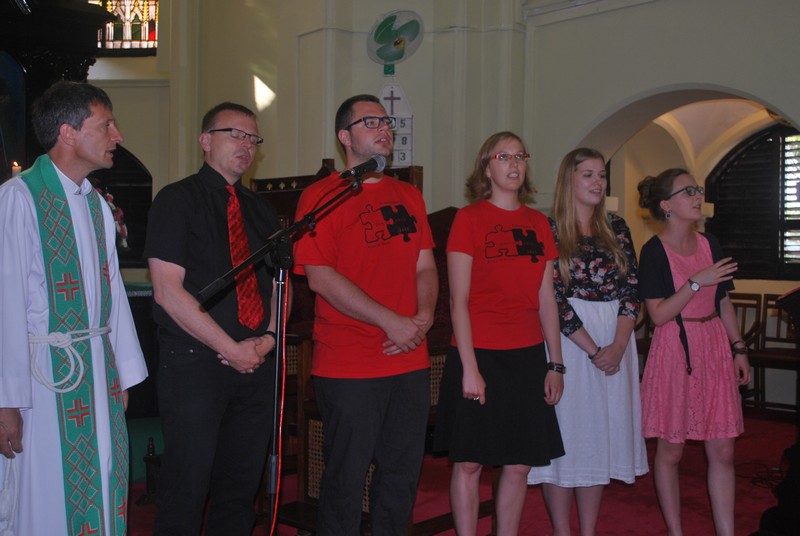 Wageni wakiimba ibadani jumapili. Visitors singing in the Sunday service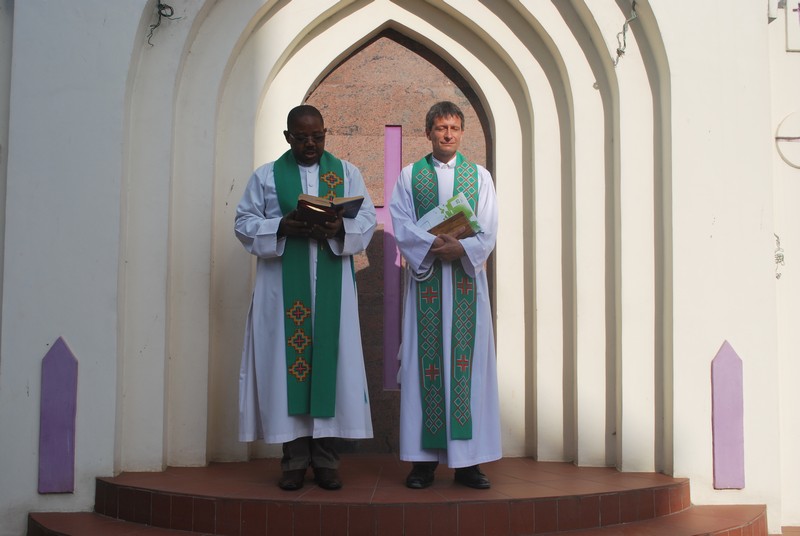 ÂÂÂÂÂÂÂÂÂÂÂÂÂÂÂÂÂÂÂÂÂÂÂÂÂÂÂÂÂ 
Mch. Mzinga akiwa na Mch. Andreas wakati wa kumaliza ibada nje ya kanisa.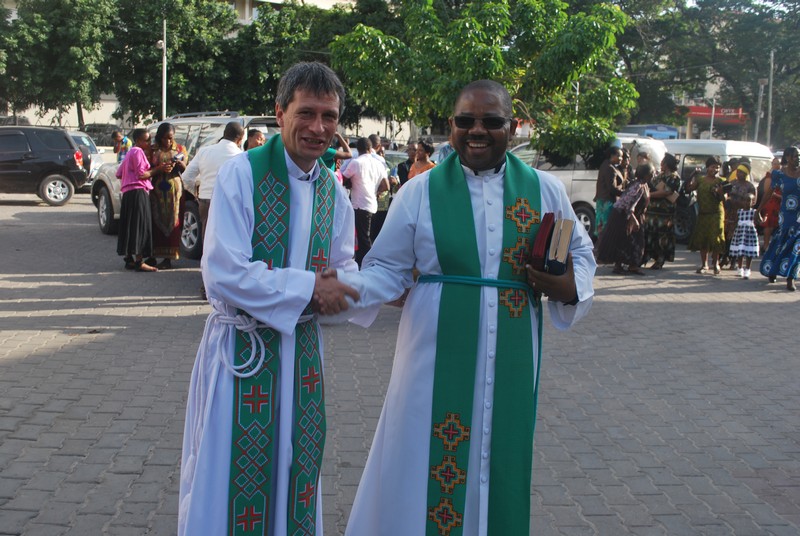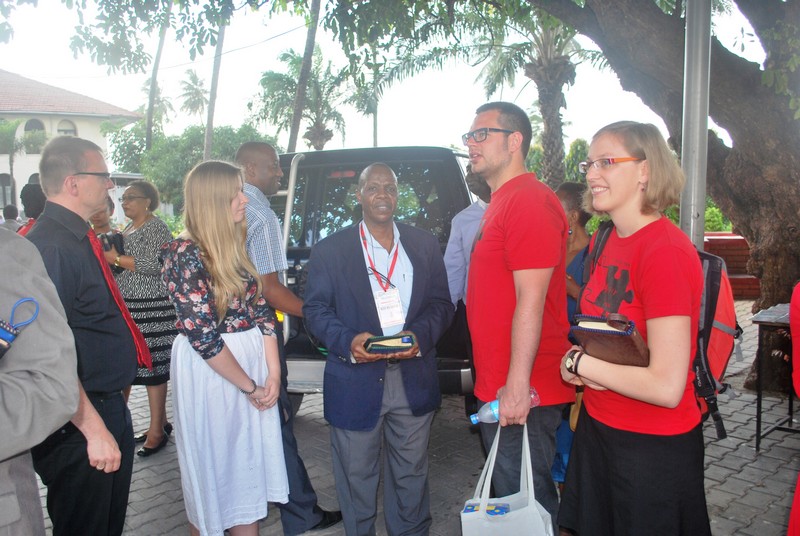 Mzee Cuthbert Swai wa kamati ya Uhusiano akiwa na wageni baada ya ibada. Elder Cuthbert Swai of partnership commitee with visitors
after the service.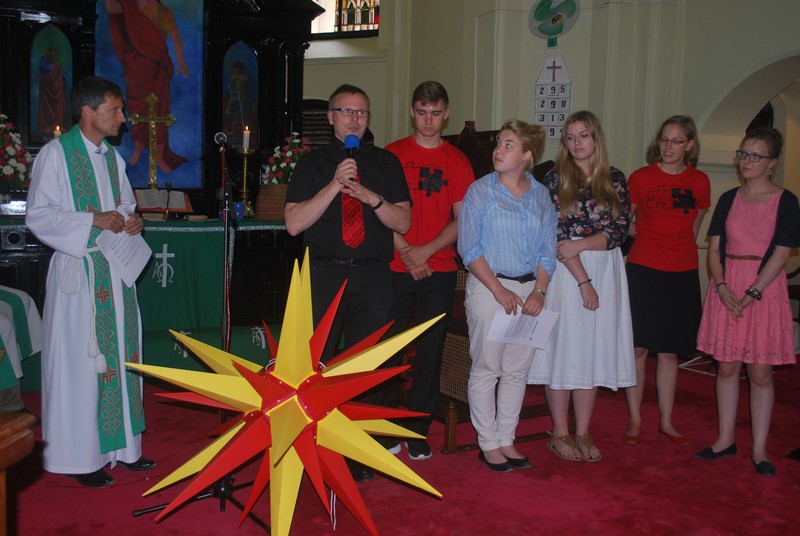 Mch. Frank akikabidhi mfanyo wa nyota kumbwa kama zawadi ya usarika. Pastor Frank presenting a gift of a large model of a star.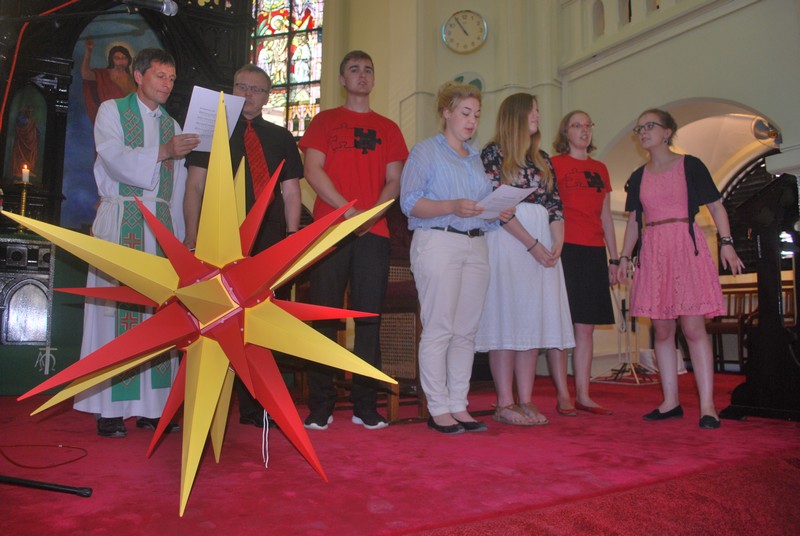 Wageni wakiimba katika ibada. Visitors singing during the service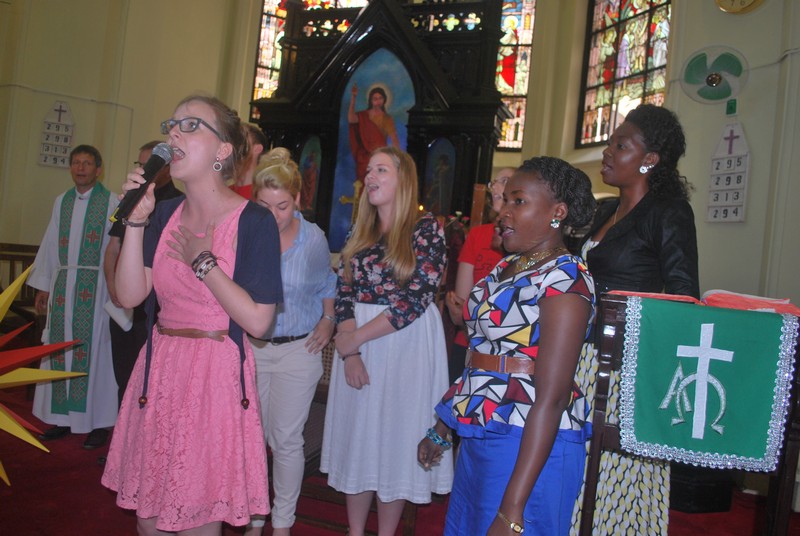 ÂÂÂÂÂÂÂÂÂÂÂÂÂÂÂÂÂÂÂÂÂÂÂÂÂÂÂÂ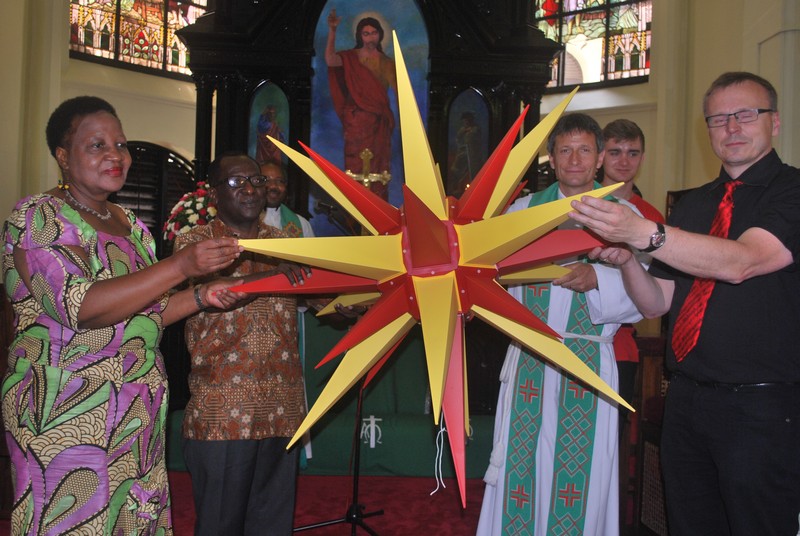 Mama Aida Mwakisu na Mzee George Mnyitafu, wote wakiwa ni wajumbe wa kamati ya Uhusiano wakipokea zawadi kwa niaba ya usharika.
Aida Mwakisu and George Mnyitafu, members of the Partnership commitee, receiving the gift of a star on behalf of the congregation.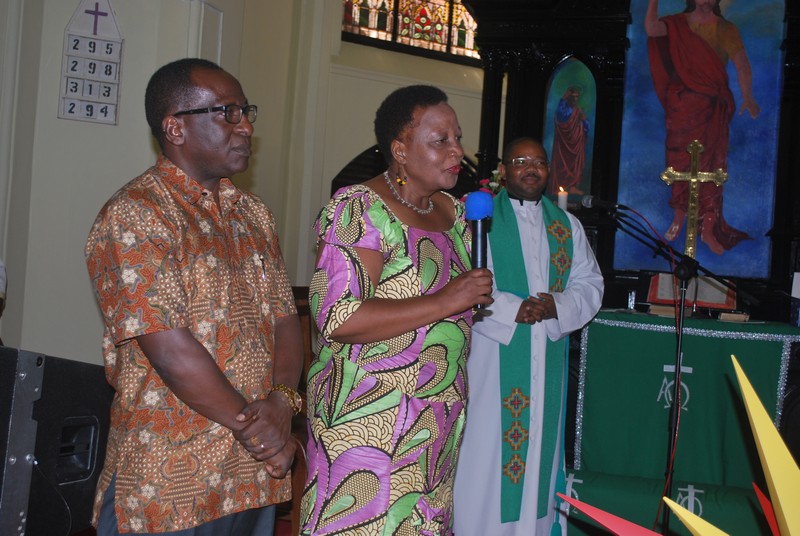 Mama Aida Mwakisu akitoa neno la shukrani. Ms Aida giving a word of thanks.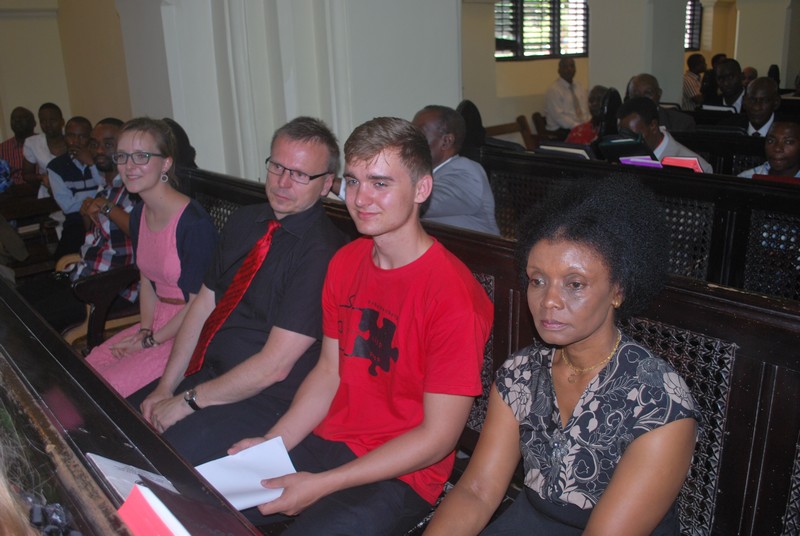 Wageni wakifuatilia ibada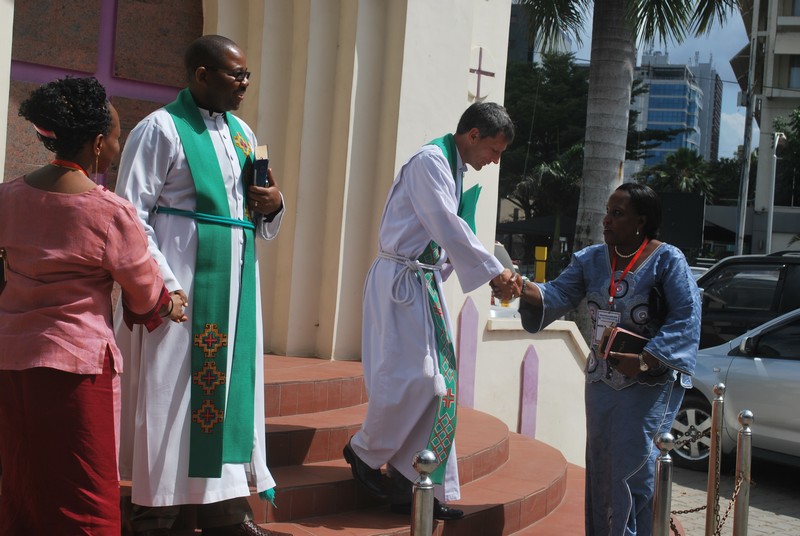 Wachungaji wakisalimiana na wazee wa Zamu baada ya ibada. Pastors exchanging greetings with church elders after the service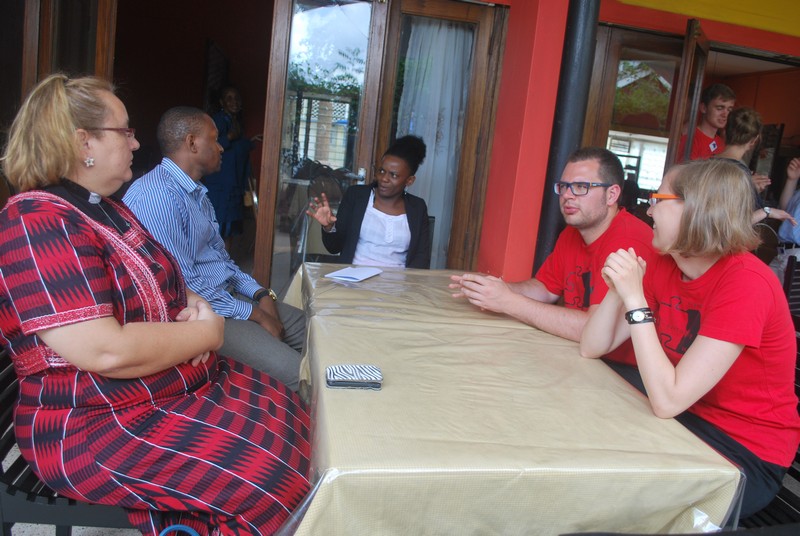 Mch. Stephanie (Kushoto) akiwa na wageni baada ya ibada ya kiingereza. Pastor Stephanie with visitors after english service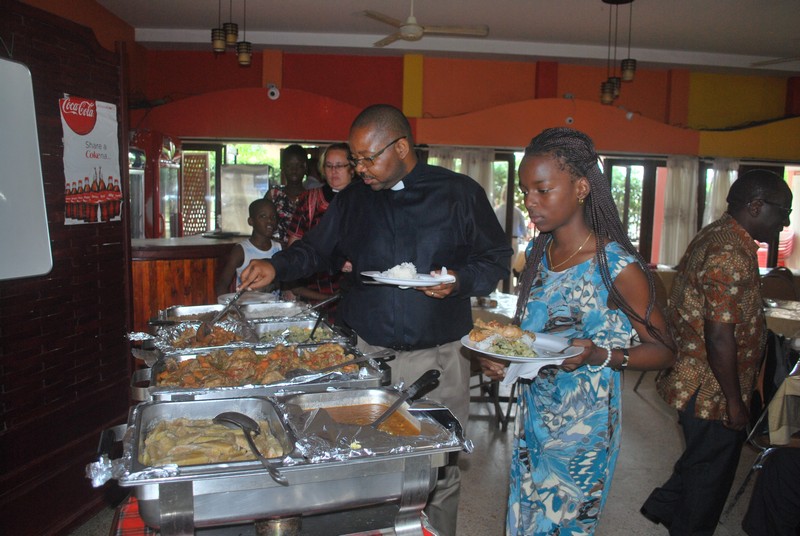 ÂÂÂÂÂÂÂÂÂÂÂÂÂÂÂÂÂÂÂÂÂÂÂÂÂÂÂ 
Wageni na wenyeji wakishiriki chakula cha mchana. Visitors and hosts having lunch together.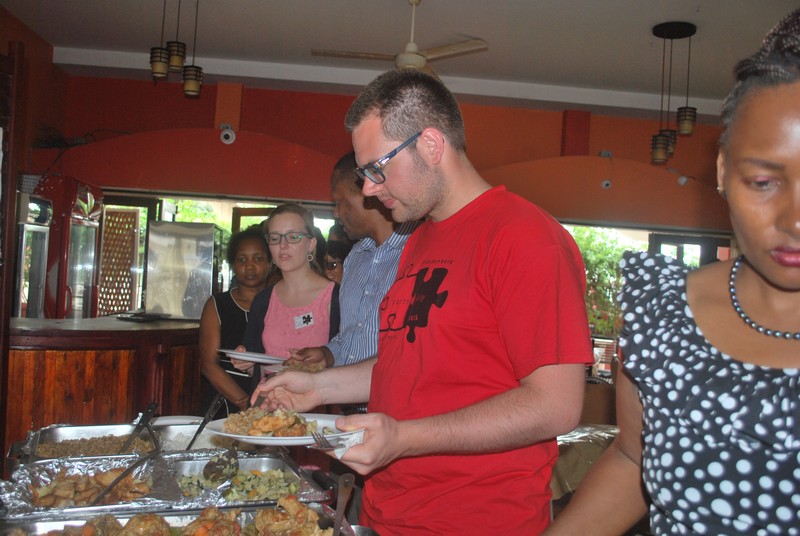 ÂÂÂÂÂÂÂÂÂÂÂÂÂÂÂÂÂÂÂÂÂÂÂÂÂÂÂ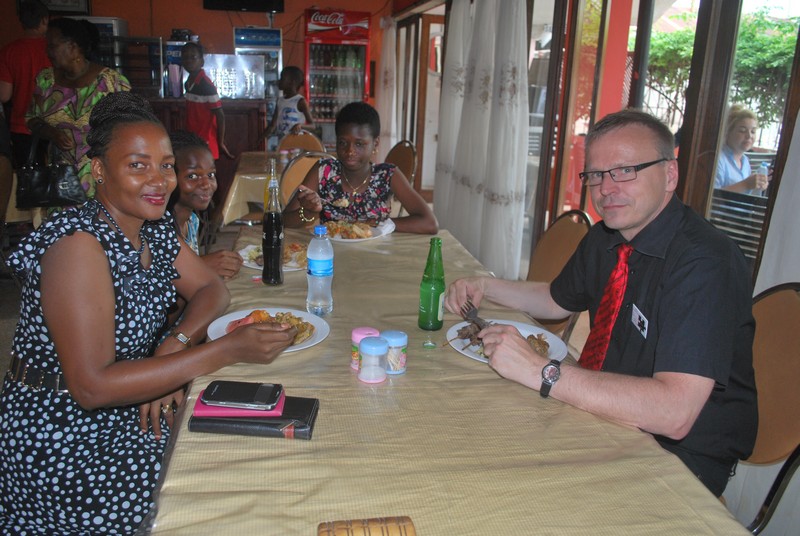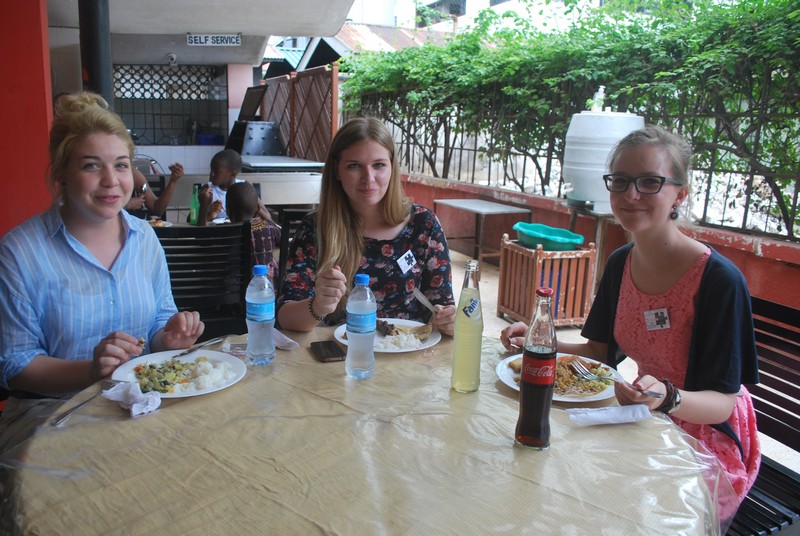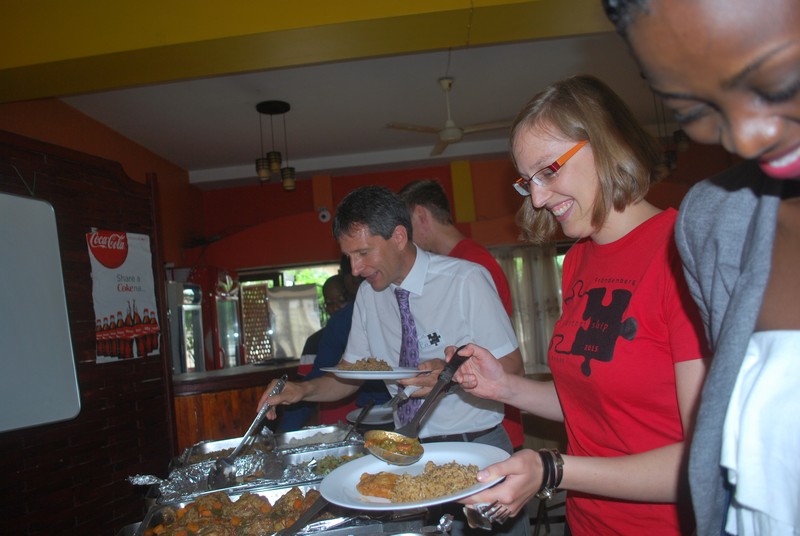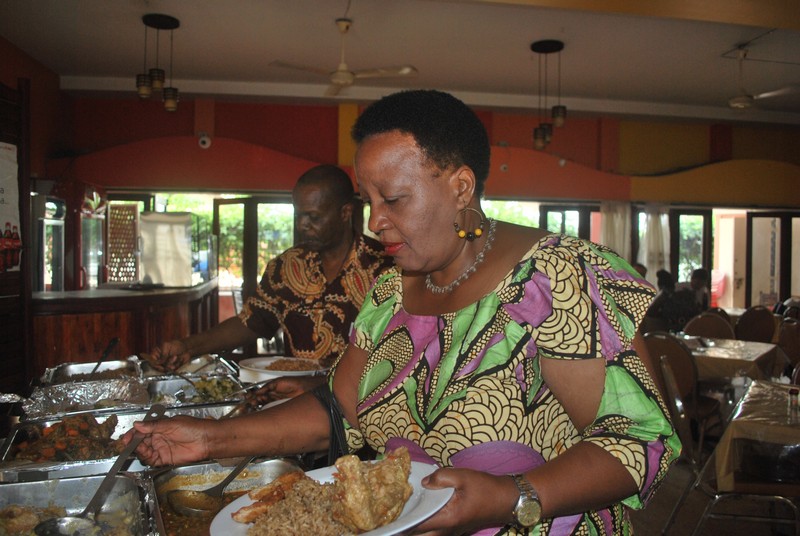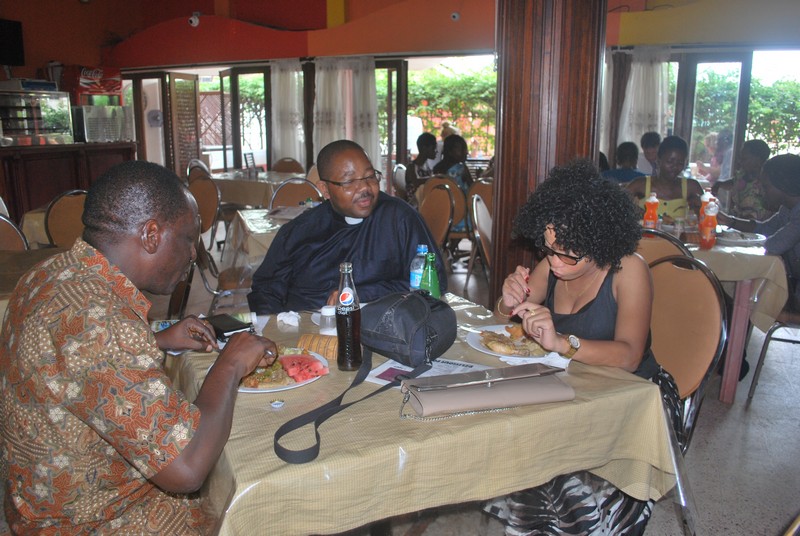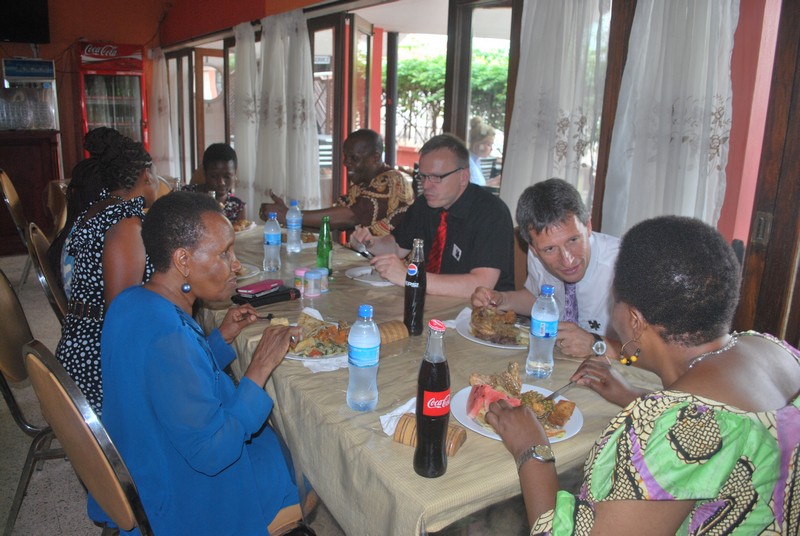 Balozi Somi (kushoto) mjumbe wa kamati ya Uhusiano, akishiriki chakula na wageni. Ambassador Somi (left) with visitors during lunch.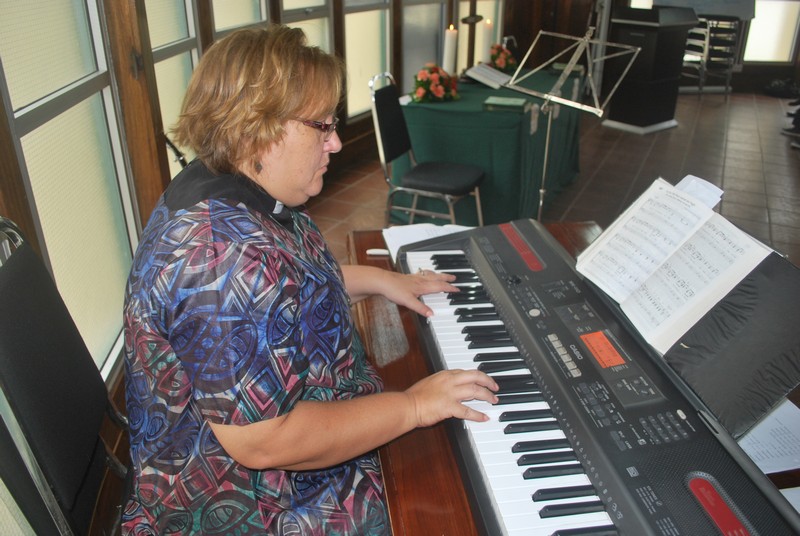 ÂÂÂÂÂÂÂÂÂÂÂÂÂÂÂÂÂÂÂÂÂÂÂÂ 
Mch. Stephanie akipiga kinanda wakati wa ibada ya Kiingereza. Pastor Stephanie playing the Piano during the English service.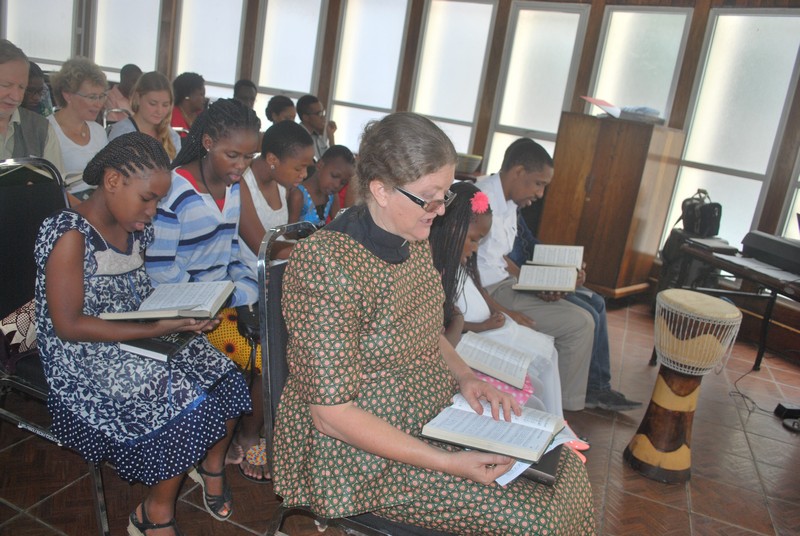 ÂÂÂÂÂÂÂÂÂÂÂÂÂÂÂÂÂÂÂÂÂÂÂÂ 
Mch. Chuwa na baadhi washarika wa ibada ya kiingereza. Pastor Chuwa with some of the congregation of the English service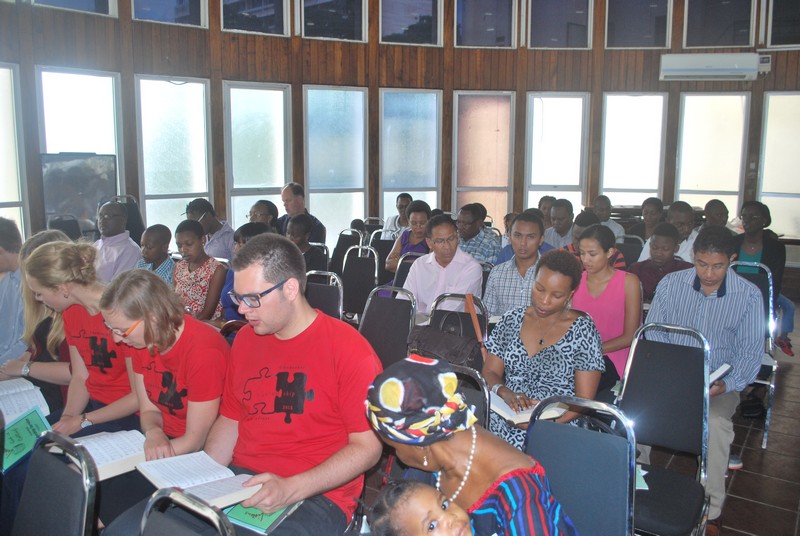 ÂÂÂÂÂÂÂÂÂÂÂÂÂÂÂÂÂÂÂÂÂÂÂÂ 
Baadhi ya wageni wakiwa katika ibada ya kiingereza. Some of the visitors attending the English service.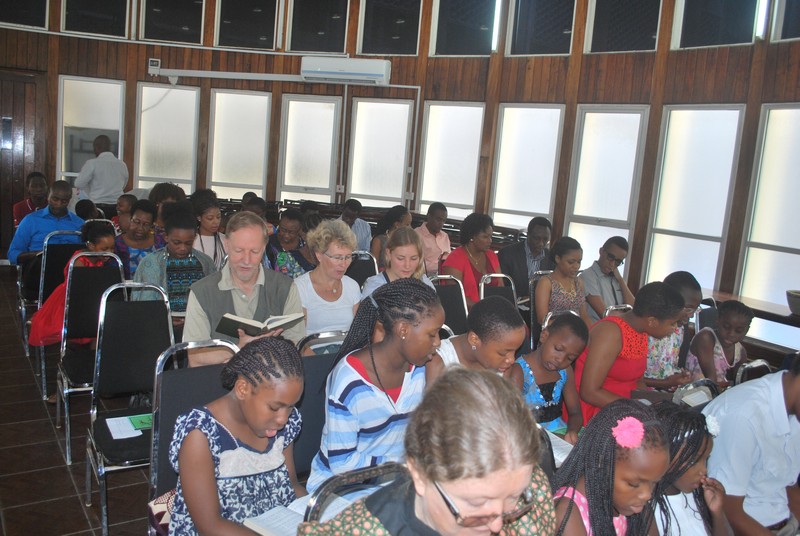 ÂÂÂÂÂÂÂÂÂÂÂÂÂÂÂÂÂÂÂÂÂÂÂÂ 
Washarika wakiwa kwenye ibada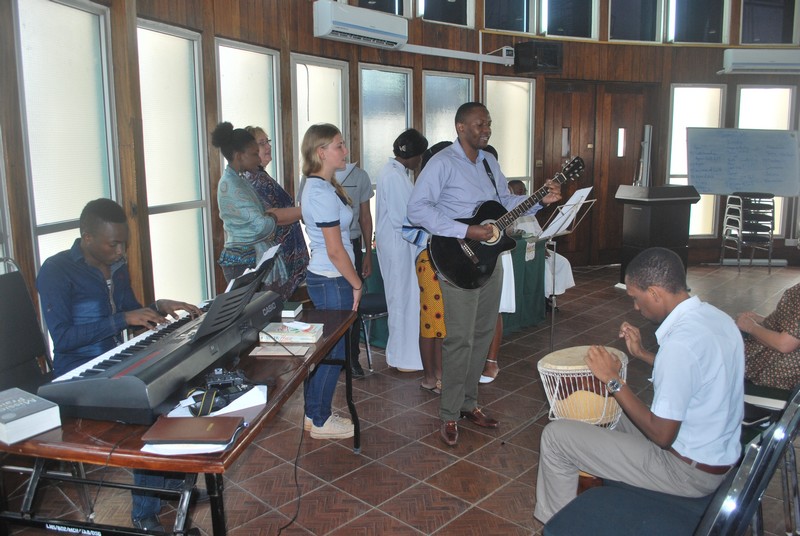 Kwaya ikiimba. English service Choir singing.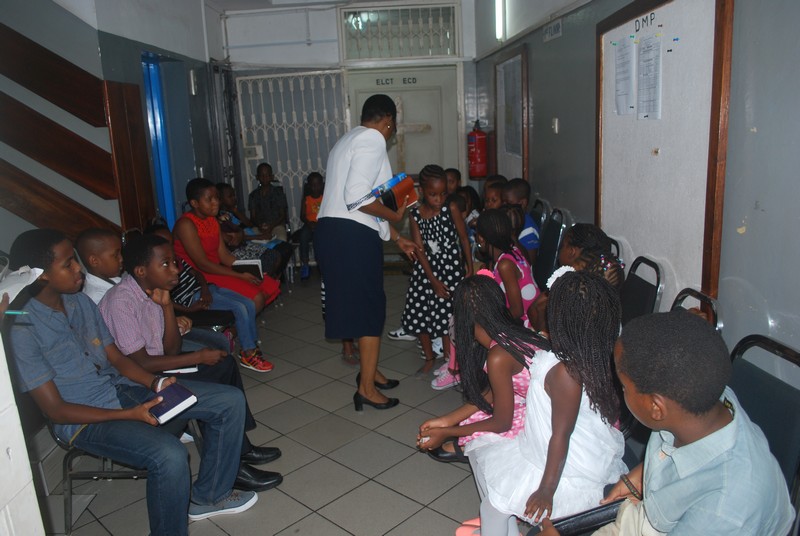 ÂÂÂÂÂÂÂÂÂÂÂÂÂÂÂÂÂÂÂÂÂÂÂÂ 
Drasa la pili la shule ya Jumapili ibada ya kiingereza. The second session sunday school of english service.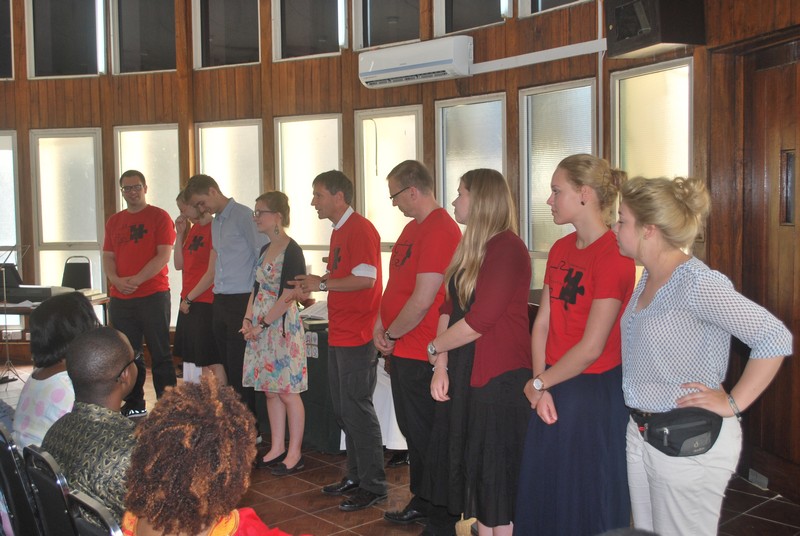 Wageni wakijitambulisha katika ibada ya kiingereza. Visitors introduction to the English service.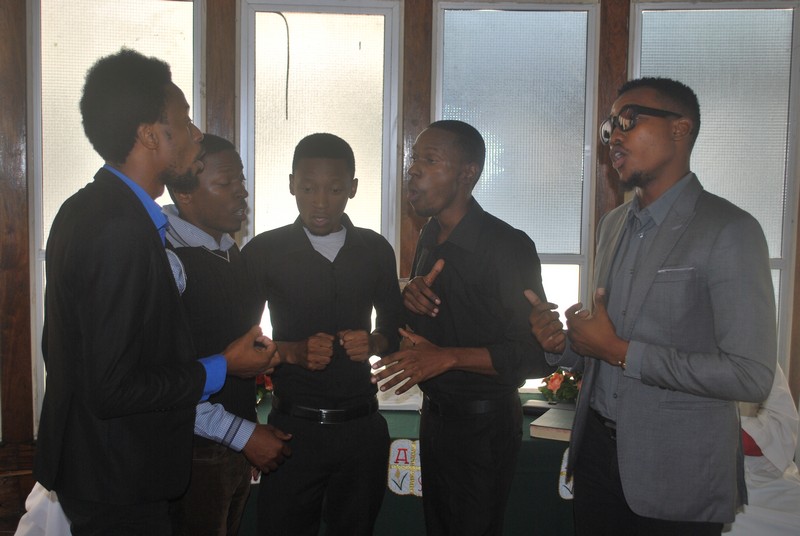 Kikundi cha "The Voice" walioalikwa wakiimba katika ibada hiyo. Invited Acapela group "The Voice" singing during the service.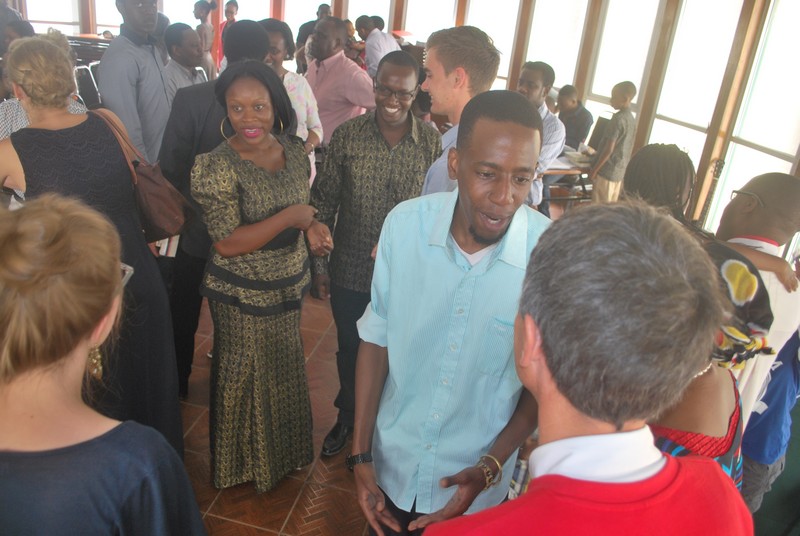 Washarika wakisalimiana na wageni baada ya ibada. Visitors exchanging greetings with the English congregation after the service.
Angalia picha nyingine hapa.....View more photos here
Picha za walipotembelea Mkuza Girls.......Photos of Mkuza Girls visit
Picha za kikao cha tathmini........Evaluation meeting photos
Picha za mwisho............ Farewell dinner photos.