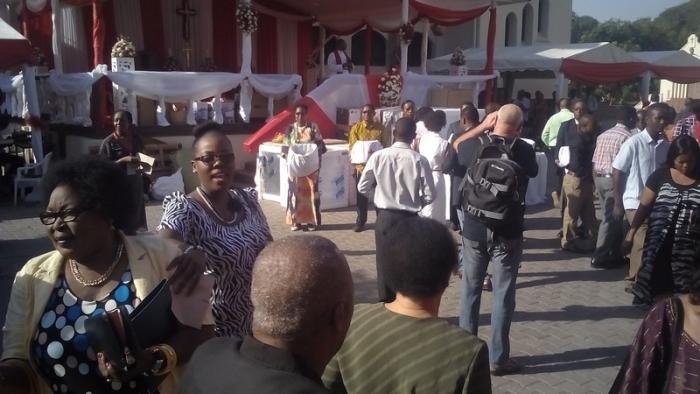 Wazee wa usharika -mbele- wakiwa wameshika vikapu wakipokea mavuno.
Church elders held baskets to receive Harvest offerings
Jumapili ya tarehe 18 October 2015, Usharika wa Azaniafront uliadhimisha sikukuu ya mavuno iliyopambwa vizuri na kwaya ya Usharika wa Msasani na Kwaya za Usharika pia. Mgeni rasmi alikuwa msaidizi wa Askofu wa DMP, Mch. Chidiel Lwiza, na Ibada iliendeshwa na Mch. Kiongozi Charles Mzinga. Washarika walishiki vizuri katika ibada na katika matoleo pia. 

HARVEST FESTIVAL SERVICE 2015
On Sunday 18th October 2015, Azaniafront congregation held a Harvest Festival Service. The service was well attended and finely decorated as you can see in the pictures. People brought offerings of cash, pledges, and products that were later auctioned in the service. Choir's from Msasani Parish and Azania graced the service. Guest of hounor was Dean Lwiza and Chaplain Mzinga conducted the service.