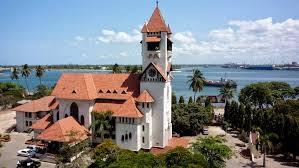 Azania Front Lutheran Cathedral is a Christian church under the Eastern and Coastal Diocese of the Evangelical Lutheran Church in Tanzania. Constructed in gothic style by German missionaries between 1899 and 1902,
Azania Front Lutheran Cathedral stands magnificently along the Kivukoni Front road, close to water front of the Indian Ocean and facing the harbour to add to the splendid view of the city centre of Dar es Salaam.
The Cathedral, with a red-tiled roof, tiled canopies over the windows and bright white walls, is among the most popular landmarks and tourist attractions of the city.
According to the available literature, the name Azania originates from a Greek word meaning the Coast of East Africa, and therefore 'Azania Front' means the front of the East African coast.
The first mass at the cathedral was held in 1902 and since then it became the centre of the spreading of evangelism in many parts of the then Tanganyika.